Are you spending the weekend in Montreal for JACKALOPE, or maybe you have friends in town and you want to impress them with your city tour guide skills? We prepared for you a little list of spots to check out, a few ideas of things for you to visit/see/try nearby the festival to make sure you make the best out of your time in Montreal!
TO PLAY OUTSIDE:
CLIMBERS! Do you know about the Stadium's 2 bouldering rocks? Installed a few years ago in the Olympic Stadium's esplanade, there are 2 giant rocks made of granite for climbing! Their mission is to make the sport accessible for all kinds of fans of rock climbing. Open to the public from dusk to dawn, it's the perfect spot to give climbing a shot or to warm up before this weekend's competition. You will find these 2 big boys near the crossing of PIE-IX and Sherbrooke.
Do you skate? Well, our city is practically 100% skatable but we got to highlight some of the city's classic landmarks. The BIG-O is literally one of the most mythical structures to skate in Canada. This huge concrete whistle looking tube was originally used as an entrance to the Stadium for the Olympics but has miraculously been transformed into a fully skatable pipe. Every year, it is one of the city's most skated spots, from locals to international visitors. Oh, and by the way, we did a web series featuring some of the freshest places to skate in Montreal, including Hochelaga Maisonneuve – where you will find the BIG-O, featuring Seb Carranza! We bet that on your way there, you will surely stumble upon the now world famous and pretty impressive VANS skatepark.
We can't miss this opportunity to also recommend the TAZ and SPIN, two of Canada's largest indoor skateparks – totally worth a visit. If you feel a little more adventurous, you can also visit the DIY P45 park or ride the benches of Parc Lafontaine. (Peep the guided tour with our friend Black Sparrow here –  Episode 2 of Skate District).
TO HAVE A BITE OR A DRINK:
Alright, nobody should be surprised if we say Montreal = Poutine, right? There are a bunch of things Montrealers love, and one of them definitely is that salty, but sweet combo of cheese curds, hot gravy sauce and french fries – BUT another passion of ours is to argue about who does THE poutine out there. A lot of the time, you will hear about LA BANQUISE. That legendary restaurant on the Plateau-Mont-Royal where you find the craziest selection of fancy poutines, from classics to insane creations, opened day and night! If you want to skip the line, check out Chez Claudette, one of the city's best kept secrets. L'entrepôt is also a solid go-to for good eats and dope drinks. You will want to visit the undisputed Schwartz on Saint-Laurent for the best smoked meat sandwich in MTL. Another of our favorites is the TRH-BAR. This mythical bar where you will see (inside) an actual bowl to skate, an inviting california vibes terrace, a bar (duh!) as well as a boutique! It's the perfect place to hang with your friends and have a brew after a day at JACKALOPE. You might meet some fellow skaters and maybe throw down for a session in the bowl. The atmosphere is incomparable and you are guaranteed to have a memorable night.
TO CELEBRATE:
While you visit Montreal, you can't (nor want) to miss our after party on Friday evening (august 19th) that is going to happen at WIP (3487 St-Laurent, Montreal, H2X 2T6. We transformed WIP's space for one night to celebrate JACKALOPE in good fashion. Expect some amazing music, contortionists, tattoo artists and so much more. You want to attend? It's actually free for festival pass holders or 10$ at the door for general admission. You don't want to miss it!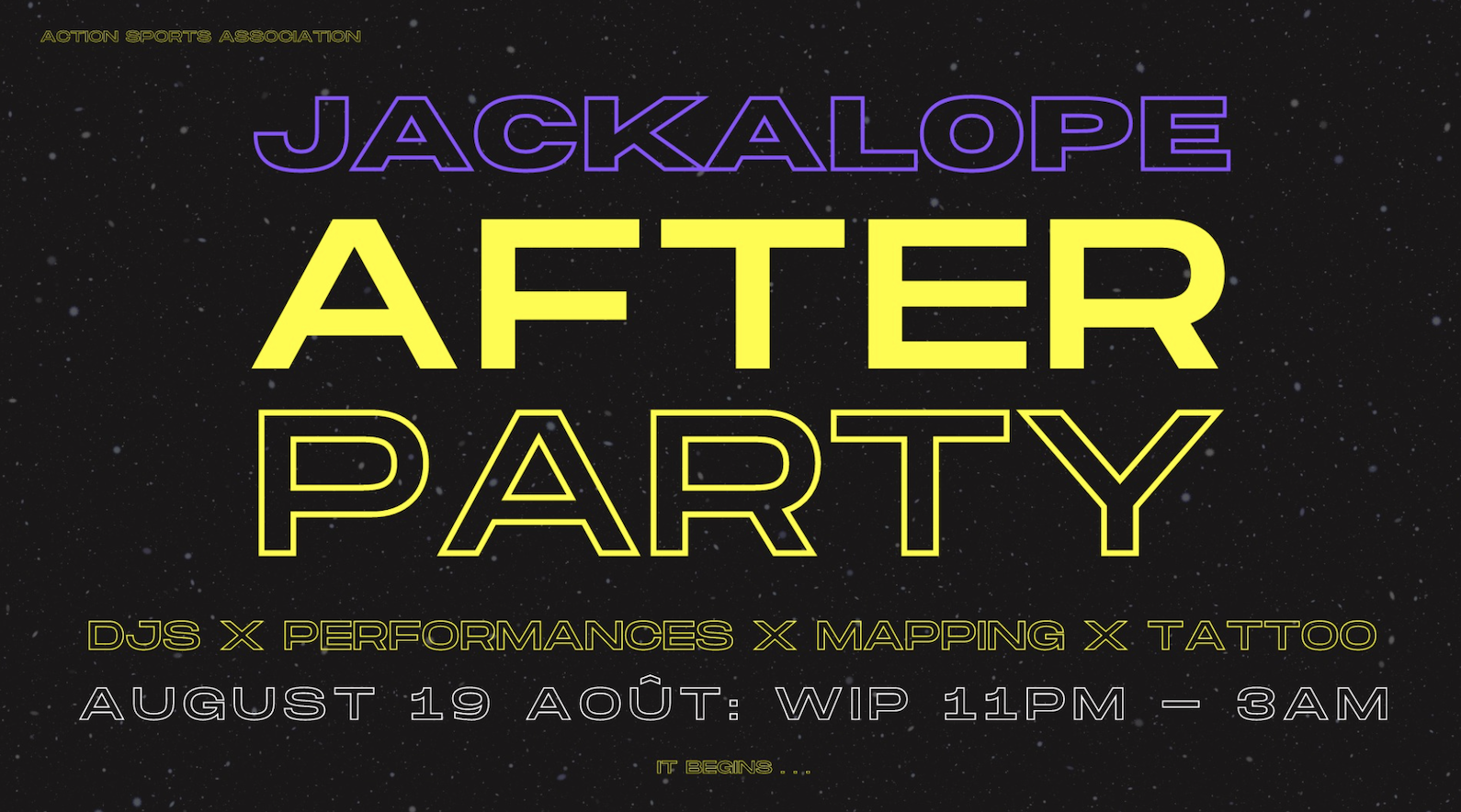 Well of course, Montreal is quite large and truthfully 3 days aren't enough to visit the whole island, but we hope that our little guide will have inspired you to explore the beautiful city of Montreal. Welcome to Montreal and we wish you an awesome weekend at JACKALOPE!
Author: Alex Sugy